Patsy Guzzo was born in 1914, on Preston Street near Norman. His brothers, cousins and neighbours played baseball in a field across the street at Preston and Norman. His first thrill in baseball came at the age of nine when the Preston and Norman team, made up of players from 15 to 19, was playing the Norfolk and Carling Avenue team at Dow's Lake Park, then known as Commissioner Park. Players from Norfolk and Carting included Joe Lynch, Ben Hunt, Buck Ralph, Oz Hammel, Louis Bonnefant and George White. The Norman and Preston team, the Indians, had Frank and Johnny Guzzo, Sam Macli, Lefty Barbaro, Skipper Disipio, Chappie Caramanico and were short one man for this grudge game. Patsy, with a miniature first base mitt, was placed in right field. When he came to bat, the infield moved behind the pitcher and the outfield behind the infield. Patsy hit one into the outfield and this feat has always brought back pleasant memories.
Five years later he turned to soft ball as a pitcher and won the playgrounds championship in the 95-pound class for Plouffe Park. A year later at 15, he made the Prestons team in the newly formed Intermediate League organized by Eddie Daugherty. He made the team as a shortstop, but when the club was being clobbered during the first two games of the season, Patsy was sent to the mound and became the regular pitcher. He won 12 and lost 12 that first year, when the strong Primrose team won the championship. However, he was on the winning team the next four years - two with Prestons and two with Fishers.

Fishers, rated by observers as the best team ever assembled in Ottawa in the then gloveless days, dethroned the mighty Strathconas in 1934. This was the era of imports from Toronto and their best pitchers made their way to Ottawa. Guzzo pitched the three winning games shutting out Straths, 10-0, then beating them 13-5 and 10-3. This upset ended senior soft ball in Ottawa and in 1935 the Inter-City League was formed.

The Hull teams had asked that Guzzo and Russ Agnew be barred from pitching in 1935 because they were too good, but they could play other positions. When the Ottawa teams objected, the above two were allowed to play. As it ended up, Kelly-Leduc from Hull won the championship. The following year a Quebec brewery sponsored six baseball teams in Hull and senior soft ball in this city ended also.
Guzzo played with R.L. Crains in 1936 in what was called the Mercantile League and pitched the team to the championship. In one playoff game, Guzzo hit three successive home runs over centre field.
In 1937, returning from a baseball game with the senior Burghs, the car in which he was riding was in an accident and Guzzo's middle finger and right arm were cut - his pitching was over for the season.
Guzzo pitched the Fire Department to the Eastern Ontario championship in 1938 and in 1941 was with the Prestons-Galla's that won the Eastern Ontario crown. This was the start of the golden era of soft ball and Galla's became one of the most powerful teams to play in the area.
In mid-season of 1941, Guzzo left for Lachine with the Royal Canadian Air Force, after waiting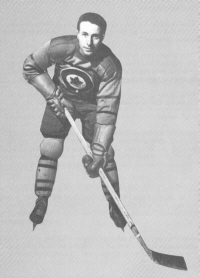 nine months to be enlisted. He pitched in the Montreal area during the rest of that year. Back in Ottawa in 1943, his Air Force team won the Eastern Ontario championship in a series with the Cornwall Army, made up of professional hockey players including Bud Poile, Peanuts O'Flaherty and other luminaries mostly from the Toronto area. Earlier this Air Force team had to eliminate a strong Galla's nine.
Guzzo was back with Galla's in 1947 when the Booth Street Stadium was erected. St. Jeans had defeated Galla's the previous year and had won again in 1947. In 1948, National Hockey League goaltender Bill Durnan came to Ottawa to pitch for Galla's. St. Jeans countered with George Scully, a top-notch pitcher from Montreal. Galla's dominated the league, but in September, Durnan reported to the Montreal Canadiens hockey club and St. Jean's again were victorious. Guzzo, during this year, pitched only in an Air Force league and played other positions for Galla's while Durnan pitched. Guzzo was the first to hit a ball out of Booth Street Stadium and his batting average helped Galla's stay at the top during the regular season.
Guzzo then left the Stadium where he had been president and pitched two seasons with Vernon, Ontario. He then was posted to Trenton where he won two successive championships and led the league in home runs. Back in Ottawa again, he pitched United Car to the pennant and followed up in 1955 as playing coach for Theriault Plastering in the LaSalle Softball League. His last appearance as a pitcher was in a local intermediate league at the age of 58.
A rough estimate indicates that Guzzo played approximately 2,000 games of softball. It should be pointed out that, as a teenager, he played with four softball teams and one junior baseball team each season. At 17, he was asked to play senior soft ball with St. Theresa's of the Senior League. Guzzo also appeared in a playoff game at Lansdowne Park before 5,000 fans against the mighty Strathconas. He was scored on eight times in the first two innings, but shut them out the rest of the way. In one inning, he loaded the bases but then struck out the side. He had five strikeouts while opposing pitcher Russ Agnew could only fan three. The final score was St. Theresa 5, Strathcona 9.
As a teenager pitching senior and intermediate softball, Guzzo won 80 and lost 17, but as noted earlier, 12 of those losses came when he just started to pitch as a 15-year-old. His batting average for those five years was .379. During his long career, spanning over 30 years as a pitcher, he won over 80 per cent of his games. In baseball, he broke into the Junior League at 16 with Primroses and then with Rosedales. His senior baseball began with Burghs and then Ottawa Pros. In Hull, Guzzo started out with Wrightville and then with Hull Volants. He was on ten championship teams, three of them being from the province of Quebec. He played every position except catcher and batted close to .400, surpassing this figure twice. This exceptional player was the leading home run hitter and on two occasions hit three home runs in a single game.
His hockey career started at Plouffe Park, but when junior tryouts moved indoors, so many players turned out that Guzzo accepted a chance to play with Westboros in the Intermediate League, the team that won championships the two years in which he played with them. At the same time, Guzzo was playing high school hockey with High School of Commerce. In 1935, this team won the Ontario championship, and in two games Guzzo scored a total of nine goals to set a record. From high school, he signed with LaSalle of the Senior League, then with Hull Volants and the RCAF. He was one of the leading scorers with LaSalle and Hull and in 1943 reached the Allan Cup Eastern Finals with the RCAF who were beaten out by Ottawa Commandos. It is estimated that between baseball and hockey, Guzzo played in about 1,000 games.
The crowning hockey achievement came in 1948 when he played for the RCAF Flyers, the team that won the Olympic and world's championships in St. Moritz, Switzerland. In eight games, Guzzo picked up five goals and 11 assists. He was singled out for his defensive play, with not one shot coming from his wing in the eight games.
His second back-breaking goal against the Swiss team, and his most prized goal was scored in the last game of the series. He took a pass from his centre, George Mara, got around the wing, split the defence, drew the goaltender to his knees, and shot the puck into the net. The ice at this time defied description - the hot sun had come over the mountains and heavy slush was continuously building up. The ice was scraped every ten minutes.
Some notes of Guzzo's career:
- In 1946, pitched a 21-inning game in Trenton in an Air Force soft ball tournament, finally losing 4-3. The opponents had two pitchers from the Toronto Beaches League.
- Hit 5-for-5 for Hull Volants in Interprovincial Baseball League.
- Pitching two years with Vernon, Ontario, Guzzo won 56 games while losing only five.
- Pitching for Bryson, Quebec, on holidays and some weekends for ten years, Guzzo won 47 games while losing only two.

Some writeups by area sports editors:
- Bill Walshe, Kingston Whig-Standard (during Ontario High School Championship series) "This lad Pat Guzzo that plays centre for Ottawa High School of Commerce is almost a dead ringer for Joe Primeau of the Toronto Maple Leafs. Guzzo was a flash throughout the game scoring five goals and looked good enough for five more. He followed this up by scoring four more the next day against Belleville, thus setting a high school record."
- Ottawa newspapers - When the big league scouts come to Ottawa to assess young talent, they would be well-advised to give a close look at "Patsy" Guzzo. "Patsy's" size may be lacking but his plate punch will be a surprise. Bill Touhey, who coached "Patsy" with LaSalle and Air Force hockey clubs, often stated that Guzzo was his best clutch player. "He was brains personified out there on the ice," said T ouhey.
- "Patsy Guzzo's three home runs over the centre field fence at the 300-foot mark features Hull Volants' win at Decosse Stadium yesterday afternoon."
- "Guzzo's five-for-five hits, including two triples and three doubles, carried Hull Volants to convincing victory over Lauriers. at Decosse Stadium yesterday."
- "Patsy Guzzo, High School of Commerce hockey star, also played with Westboro Intermediates, led that team to a 10-1 victory over Army in a game played in Westboro last night. Guzzo, a softball, baseball and basketball star, scored five goals and two assists."
- "Patsy Guzzo and Edgar Mentzel, teammates on High School of Commerce. turn down offer to play professional hockey with St. Louis Flyers of the American Hockey League. Mentzel was employed and Guzzo had already planned to join the RCAF."
- During the Olympic hockey games in 1948, Guzzo was nicknamed "The Bird" in Switzerland because of his speed and finesse. In Czechoslovakia, he was referred to as "The Dancer" because of his smoothness and agility. He was called "The Angel" in Paris. His teammates on many teams called him "Black Magic".
Truly an all-round athlete was Patsy Guzzo. His accomplishments are many. He is still an avid golfer and you will never see Patsy Guzzo behind the wheel of an automobile. You are most likely to see him walking to some sporting event in our city. A remarkable gentleman.