As a lawyer, police magistrate and man, Martin O'Gara was one of the most respected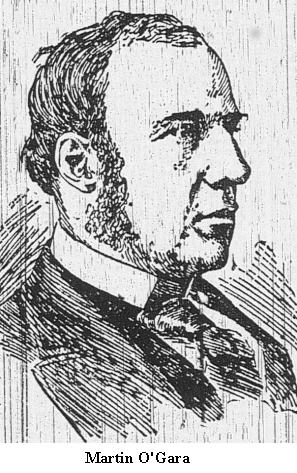 men in the Ottawa Community during the last 40 years of the Nineteenth Century. As a resident of Ottawa East he made a significant contribution to the evolution of the community.
Born in County Mayo Ireland on October 28, 1836, O'Gara immigrated to Canada in 1857 and immediately entered into the study of law. By 1861 he was practicing in Ottawa and in 1863 he was appointed as police magistrate, a position he held until his death along with the title of Police Commissioner.
If the size of his obituary indicated his importance in the legal community, the O'Gara was at the top of his profession. The Ottawa Evening Journal devoted more than three full-page columns to his passing Along with an artist's sketch, the story included a history of his life and numerous accolades and tributes from lawyers, judges, police and politicians. The entire extensive text of a special motion by the city council, paying tribute to him and a description of the route his coffin would take was also included. The Dominion Police, fireman and the band of the 43rd Regiment escorted the funeral. O'Gara was one important man!
And he lived in Ottawa East on the northwest corner of Hawthorne and Main. The land records show that was involved in the purchase of several properties beginning in the mid-1860's. He received a Crown Patent (free land) in May of 1969. The O'Gara family first appears in the 1880 Archville municipal directory on the "new road" (Main) and was a next door neighbour to James Ballantyne. The house and original configuration of Hawthorne is shown on the Fire Insurance Map here.