The origin of St. Patrick's College can be found in the complex history of the Catholic religion in Ottawa. As seen in the story of the Oblates of Mary Immaculate (found here), the division along linguistic lines at the University of Ottawa in the early Twentieth Century culminated with the building of this imposing college on Echo Drive overlooking the canal.
Opened in September 1929, in temporary quarters, the school was originally intended to meet the needs of secondary and post-secondary English-speaking Catholics in the Ottawa area. From the outset St. Pat's played a major role in Ottawa East both in academics and athletics. Today there are thousands of alumnae throughout the world who credit their success in life this unique institution and value still "the indefinable sense of fellowship" that came with the St. Pat's experience.
Detailing the nearly four decades of school activities would require a separate project in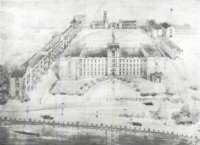 itself. It is fortunate though, that H. A. MacDougall wrote an overview of this history in 1982 for the Canadian Catholic Historical Association. The monograph has been reproduced here with the kind permission of the Association.
St. Pat's ceased to exist as a separate Catholic school on July 12, 1967. At this point, it departed from its parent institution, the University of Ottawa, to become a faculty at Carleton University. The school met its final demise on January 31, 1979 when the Board of Governors at Carleton announced that the college would cease to exist in the following academic year.

The building itself of course still stands magnificently overlooking the Rideau Canal. For a time it was a campus of Algonquin College and presently houses Immaculata High School. As such, the building originally constructed on Patterson's Field, continues to daily bring hundreds of young vibrant minds to Ottawa East and thereby continues the legacy.